The well-known fast food company, Burger King, has started to accept bitcoin among its allowed payment methods, but only in Arnhem, Netherlands.
Located in the city center of Arnhem, this Burger King venue will accept bitcoin and anyone that will pay with in this way will receive a second burger (a whopper) for free.
Another interesting news is that Burger King will host bitcoin meetups to increase the number of people who know what bitcoin is.
But, why Arnhem?
Since the opening of the Arnhem Bitcoinstad (also known as Arnhem Bitcoincity), the number of merchants who decided to accept bitcoin increased exponentially, and now Arnhem has 100 shops (including malls, coffee shops and restaurants) where people can spend their cryptocurrency.
In fact, yesterday (February 18th) Arnhem Bitcoinstad stated:
"The project Arnhem Bitcoincity has reached a new milestone: There are now 100 venues that accept Bitcoin in Arnhem. The Burger King in the city center is the latest to join the project. For Bitcoin enthusiasts Arnhem is like heaven as you can practically pay everything with bitcoins."
Growing bitcoin enthusiasm
Bitcoin enthusiasm is growing fast in Arnhem and merchants have started to keep bitcoin instead of converting them immediately.
"When this project started, all merchants converted their bitcoins to euros immediately through the payment processor BitKassa, but a growing number of merchants now keep their bitcoins, since they can pay some of their supplies with bitcoins themselves at other merchants who accept Bitcoin as well. For instance a restaurant owner who pays for his bread at a bakery that also accepts bitcoins," Arnhem Bitcoinstad team commented.
Life on Bitcoin
Maybe you have watched the documentary Life on Bitcoin, or maybe not, but all around the world there are a lot of cities where you can at least survive using bitcoin as the only payment method.
In fact,
Life on Bitcoin
shows how a young married couple could live and travel everywhere with payments only in
bitcoin
.
Of course, there is still a very long way to go but this couple has proved that it is already possible to conduct a normal life with the crypthocurrency.
For about 100 days, Austin and Beccy Craig decided to eliminate from their life credit cards and cash, relying only on bitcoin and they found several merchants who decided to accept bitcoin in exchange for meals and ground transports.
Life on Bitcoin
has also inspired another travel: the one by
Felix Weis
, a 27 years old programmer who started to live for a whole year using only bitcoin. Felix writes about his adventures
on his blog
and he also shooted a documentary.
Where to live using bitcoin: CoinMap and BitMap
There are a lot of startups who decided to create platforms where you can read about all the restaurants and shops who accept bitcoin.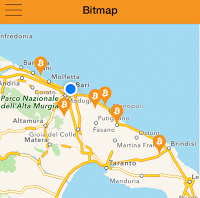 One of this is
CoinMap
, who reports more than 7000 shops all around the world. It is a web platform so you can use it from your laptop.
But, if you prefer a mobile app instead, you can download BitMap, available for IOS or Bitcoin Map for Android.
About the author:
Amelia Tomasicchio
is a writer and a journalist of Bitcoin-related news and articles. She started writing about Bitcoin in 2014 and she graduated in Rome with an essay about movie industry related to Bitcoin.
Open your free digital wallet here to store your cryptocurrencies in a safe place.