On March 1st, 2016, ISITC, the International Securities Association for Institutional Trade Communication, published the results of its annual survey about the financial services progress which it gives also a specific forecast on how the industry will be during the current year.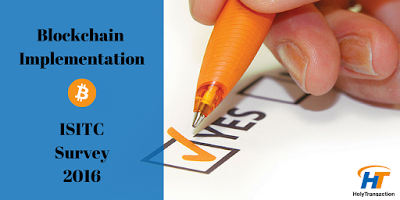 This annual survey polled 45 members who work in several sectors within the financial industries.The survey revealed that 62% of companies want to invest in technology with a lot of interest in blockchain and cybersecurity technology and 55% of those companies are studying or already developing solutions based on blockchain technology.
Also 74% of those companies have concrete plans to invest in cybersecurity by the end of 2016/17, up from 57% in the 2015 survey.
Interesting facts about the 2016 survey
This annual survey also revealed:
82% anticipate no operational issues related to the move to a T+2 settlement cycle in 2017
80% of firms see cost reduction as the biggest challenge for them in 2016/17
63% of firms measure operations success on the ability to reduce risk and cost
62% of firms named investment of infrastructure an area of operational focus in 2016
A word from the experts…
Jeff Zoller, Chair of ISITC and Vice President at T. Rowe Price commented:
"New and emerging technologies have taken the financial services industry by storm. The results of our annual member survey confirm this sentiment, as firms plan increased investment in blockchain and cybersecurity technologies, as a method for combating long-term risk and cost. We look forward to continuing the dialogue around the challenges and opportunities these disruptive technologies bring to the industry at our March event in Boston". In addition, according to Nigel Solkhon, CEO of ISITC Europe, the current interest and investment in the blockchain among financial companies will have a significant impact within the next 18 months.
The ISITC 22nd Annual Industry Forum and Vendor Show will be held March 20-23, 2016 at the Renaissance Boston Waterfront Hotel.
Open your free digital wallet here to store your cryptocurrencies in a safe place.