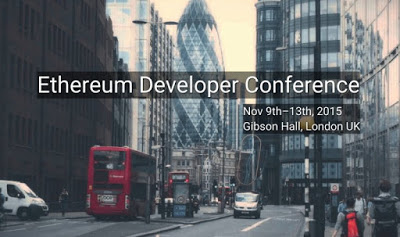 The Ethereum DevCon1 conference is set to take place on November 9th in
London
. In a recently published
blog post
by George Hallam, the Ethereum team announced that Microsoft would be one of the sponsors of the first-of-its-kind event. MIcrosoft and Bitcoin have had a somewhat strong relationship since the American company started accepting it last year. Now, it seems that "Bitcoin 2.0" technology like Ethereum is taking some of the institutional attention away from Bitcoin. Vitalik Buterin, one of the founders of Ethereum, commented on the sponsorship:
"DΞVCON1 is very excited to work with Microsoft and we look forward to having them in London."Microsoft's head of US Technology Financial Services, Marley Gray, explained more specifically why Microsoft had taken an interest in this international and decentralized technology event:"Microsoft is excited to sponsor and attend Ethereum's DevCon1. We find the Ethereum blockchain incredibly powerful and look forward to collaborating within the Ethereum Community. We see a future where the combination of Microsoft Azure and Ethereum can enable new innovative platforms like Blockchain-as-a-Service. This will serve as an inflection point to bring blockchain technology to enterprise clientele".
"Blockchain-as-a-Service" is a new term that we will undoubtedly hear more of in the coming years. Most everyone involved in the technology side of their business is familiar wit Software-as-a-service (SAAS) which has given rise to incredibly large corporations. In contrast, the service that the blockchain provides is removing the need for people and points of failure in the middle and back office. Smart contracts and blockchain-as-a-service obviously go hand in hand. What will be most interesting is if Microsoft's potential use of Ethereum in their Azure platform is what finally prompts Amazon to get into the decentralized digital currency game. One can only hope.
Ethereum DevCon1 Is Bringing Interesting Companies and People Together… For a Better FutureAlready, it has been confirmed that not only will Microsoft be in attendance, but so will Nick Szabo. That is actually no surprise given that Szabo coined the term "smart contract" many many years ago and has become increasingly vocal on the internet as his pet idea has started to come to fruition. Smart contracts are a large part of Ethereum's mainstream appeal, though the concept is still in the process of gaining momentum. The future prospects of robots and computers replacing humans for certain types of jobs has always been on the fringe of human imagination. The more you think about smart contracts, the more you realize that such a futuristic world couldn't exist in a stable state without something like smart contracts. As panelists at the Money20/20 conference stated:
"Cryptocurrency is the most natural way for machines to pay machines."
Bitcoin-inspired blockchain technology, of which Ethereum definitely is, has seen a lot of validation lately. Other Bitcoin-inspired blockchain technology like BitShares is also gaining traction, though not in the form of Microsoft sponsorships. Besides the fundraising and actual release of Ethereum's Frontier alpha and a shaky first few days, the formation of a conference is a milestone that most "altchains" never achieve – not that there was any doubt that Ethereum would make it this far, anyways. After all, even Imogen Heap has even started using Ethereum, why wouldn't Microsoft be next?
Open your free digital wallet here to store your cryptocurrencies in a safe place.