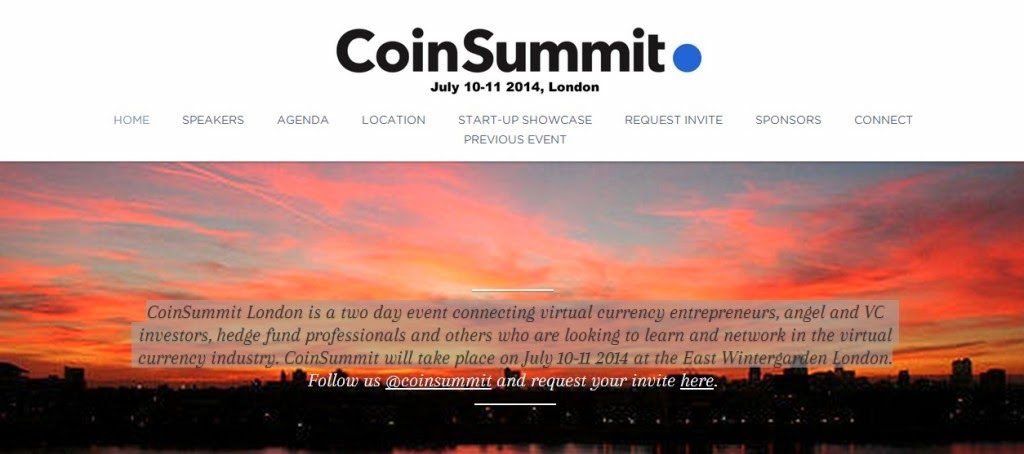 The Third CoinsSummit is to be held in London this July. San Francisco was the acting ground of the previous CoinSummit convention that was held in March; as the second convention presented, this next summit will feature a series of panel discussions and speeches from bitcoin enthusiasts, hedge fund professionals, VC and angel investors, and experienced cryptocurrency entrepreneurs.
The information posted on the CoinSummit official site:
"CoinSummit London is a two-day event connecting virtual currency entrepreneurs, angel and VC investors, hedge fund professionals and others who are looking to learn and network in the virtual currency industry. CoinSummit will take place on July 10-11 2014 at the East Wintergarden London."
Some notable speakers include Silk Road Equity co-founder Matthew Roszak, new Bitcoin Foundation board of director Brock Pierce, angel investor Roger Ver, and Maidsafe CEO David Irvine. Some of the others participants include Megabigpower founder David Carlson, Lamassu CEO Zach Harvey, eToro CEO Yoni Assia, and many others.
This 3rd CoinSummit, organizers are presenting a new set. Besides the usual structure, a special platform is being organized for a few startup companies. Coinsummit has informed at their site, that ten startups will be given the chance to present in front of the entire CoinSummit audience and will be chosen on the basis of the size and charm of the opportunity they are designing, the strength of the team, and their traction / metrics / achievements.
The summit is organized by Pamir Gelenbe, a strongly firmed crypto currencies entrepreneur and partner at Hummingbird Ventures. After the last summit in March, Gelenbe has stated:
"We hope to bring together entrepreneurs, VC investors and folks from hedge funds who want to learn about bitcoins as an asset class…we really want to focus on the business side of Bitcoin as we don't think there has been an event like this before."
CoinSummit has been the leading hand on taking Bitcoin discussion to higher grounds by cementing the bonds between the Bitcoin communities around the world and relaying trustworthy information to the media and business investors.
CoinSummit London 2014, will be held at the East Wintergarden and take place on July 10-11. Entrance to the conference is invite-only. Digital currency enthusiasts and entrepreneurs who wish to attend the event can request an invitation on the summit's official site; applying for the presentation is free and the deadline to register is June 20.
Open your free digital wallet here to store your cryptocurrencies in a safe place.