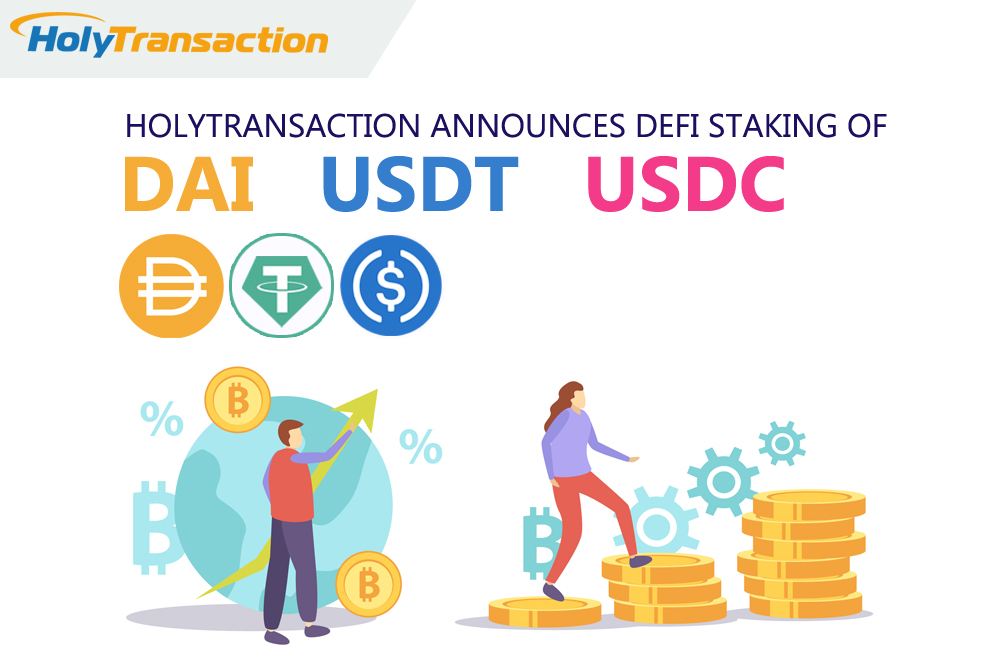 Decentralized finance is quite literally taking the entire blockchain industry by storm.
After a relatively slow buildup over the past few years, the spotlight has well and truly fallen on the cryptocurrency space's ability to do what traditional finance does — but better.
HolyTransaction, the world's most trusted cryptocurrency web wallet, is making access to DeFi solutions available to all of its users starting now.
How? HolyTransaction developers have integrated DeFi savings accounts for stablecoins into HolyTransaction web wallets.
If the whole decentralized finance thing is new to you, and you're having trouble understanding the importance of cryptocurrency savings accounts with stablecoins, then read on!
Decentralized Finance (#DeFi) Explained
Blockchain has promised to do a lot over the years.
However, at the end of the day, its first and best use case going back to the invention of Bitcoin is, and has always been, money.
If you're looking for a one-liner, it's this:
Cryptocurrencies do it better.
So, why shouldn't cryptocurrencies one-up the traditional financial industry?
Decentralized finance refers to blockchain-based protocols that enable peer-to-peer financial solutions like loans and, yes, savings accounts. Anything the traditional financial industry offers via institutions like banks, you will soon be doing in a decentralized manner without third parties at all.
A Quick Guide to Stablecoins
The truly clutch tool in the development of the #DeFi industry has been the stablecoin, a workhorse digital asset used to minimize value volatility by pinning a cryptocurrency's worth to an outside asset.
Some stablecoins, like Tether (USDT), pin their value to government currencies such as the US dollar. To maintain value, $1 is stored in a reserve for every 1 USDT circulating in the open market.
Other stablecoins peg their value to assets like gold, oil, and electricity.
Today, stablecoins are gaining immense popularity as digitally-native alternatives to slow, centralized, and costly to use fiat currencies like the EUR, RUB, USD, and YEN.
HolyTransaction Interest-Generating Cryptocurrency Savings Accounts
When using traditional banking savings account solutions, you've probably noticed that APY rates are pretty low.
Even so-called high yield accounts don't yield much with limits as low as 0.5%.
Decentralized finance is changing that. By removing third parties from banking scenarios, you can often earn as much as 3% APY by keeping your stablecoins in an interest-generating crypto savings account.
The great news is HolyTransaction has integrated such interest-earning features directly into its trusted cryptocurrency web wallets.
With HolyTransaction, there is no need to download, install, or otherwise figure out another piece of software.
Instead, you can use your HolyTransaction cryptocurrency web wallet directly via the web, allowing you to get started generating rewards on your stablecoins right away.
If you're concerned about a learning curve of some kind — worry not.
Using a DeFi savings account is the same as using a basic cryptocurrency wallet. Just deposit your stablecoins, click on "stake" and you're good to go — the longer you store them, the more they yield in return.
Want to get started today? Jump over to HolyTransaction to quickly create an account and start saving.
Open your free digital wallet here to store your cryptocurrencies in a safe place.