Bitcoin, Ether, Dash and now also the Peercoin price: it seems that the market value of the whole digital currencies world is growing.
Recently, in fact, Peercoin price surged of about 20% in the latest hours.
In fact, at the press time, its value reached $0,477882 (22.49%) or 0.00037581 BTC (20.82%).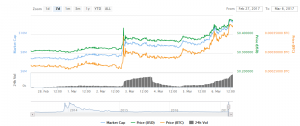 Also, Peercoin market cap reached $10 M a few hours ago.
Peercoin was the first digital currency to use the proof of stake  (PoS) consensus system back in 2012.
Peercoin was created back in 2012 by Scott Nadal and Sunny King. Sunny King, who also created Primecoin, is a pseudonym, a common behavior in the crypto community (do you remember who Satoshi Nakamoto is?).
Proof-of-stake's protocol was created to solve the high energy  consumption of bitcoin.
The proof-of-stake system was also designed to solve vulnerabilities that could occur in a pure proof-of-work system.
For example, with bitcoin there is a good risk of attacks resulting from a monopoly on mining share. As Proof-of-stake becomes the primary source of coin generation, energy consumption decreases over time.
Ethereum and Casper
Now Vitalik Buterin – or the Ethereum blockchain creator –  and his Ethereum community want to exploit this algorithm to improve their technology. So, recently everybody in the digital currency world has heard about the proof of stake and Peercoin system.
Could this be one of the reasons for this Peercoin price growth? Is it a result for a growing curiosity behind the PoS tech?
How to store all digital currencies in only one place
If you want to trade, buy and sell different digital currencies, you may need a multicurrency wallet like the one provided by HolyTransaction.
Usually, if you want to store different cryptocurrencies you need a wallet for each digital currency you have.
HolyTransaction solves this problem as you can store more than 20 digital currencies in one place and within the same login details.
You just have to remember one password and you can have a full access to your digital currencies.
Also, HolyTransaction wallet provides you the following services:
Send your digital currencies to any address, even to addresses of other cryptocurrencies with instant conversion on the fly;
Receive transactions;
Exchange your digital currencies with any supported coins;
Make instant transactions between HT users;
Get real time exchange rates on the website;
Set OTP for additional protection.
Open now your HolyTransaction univeral wallet here. 
Open your free digital wallet here to store your cryptocurrencies in a safe place.