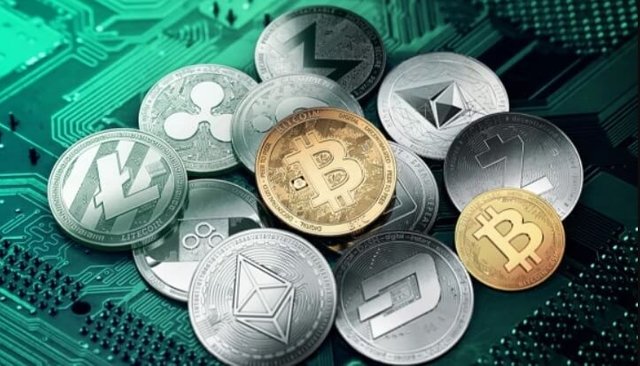 Following last year's very well publicised crisis moment for Bitcoin, it's very tempting to believe that the moment for cryptocurrency has passed. Confidence in these new technologies has waned significantly, and there's a general understanding of how volatile the market is. But though it is still true that cryptocurrency is not as stable as more established currencies, the technology isn't going anywhere any time soon.
So while you may have missed the first major boom in digital currency, there is a likelihood that we are going to see some interesting developments in 2019. Here are some cryptocurrencies to watch this year.
Ethereum (ETH)
Ethereum works not just as a digital currency but as a platform for users to build their own cryptocurrency. Users take the building blocks provided by Ethereum's blockchain and create their own application so that it can be used to manage things like supply chain.
At the end of 2018, Ethereum had started to show growth again after the 2017 peak. At it's highest peak, it had grown around 3000%, the second largest after Bitcoin. "During the course of this year," says Jay Stokes, author at researchpapersuk.com, " Ethereum is expected to continue to rise in value, as plans roll out to improve its technology."
Decred (DCR)
Launched in 2016, Decred has become a well regarded currency that aims to democratize its model. There's a focus on the actual work of data mining, with partial rewards going back to those who can offer proof of work. These individuals can have a direct say in the management and direction of the project.
To facilitate this decentralized governance, the developers have created an efficient and simple voting system to achieve consensus. Utilizing smart contracts the model is resistant to any potential outside parties that would seek to influence votes being cast.
Cardano (ADA)
Founded by Ethereum's Charles Hoskinson, Cardano works through a smart contract platform. The developers take remarkable care to maintain the platform, and seek to standardise and promote Cardano's protocol technology.
Charles Hoskinson claims that Cardano is the next stage in evolution for blockchain technology. It is built on meticulous academic and scientific research in order to combat issues surrounding blockchain technology, including scalability, interoperability and sustainability.
Dash (DASH)
Created in 2014, Dash is a decentralized autonomous organization as well as a cryptocurrency. As an open source asset, it works on a principle of self-governance. In its early days, it was known as Xcoin, a 'fork' of the Bitcoin protocol, but as an altcoin, it earned a bad reputation as the cryptocurrency used on the dark web.
However, following a rebrand as Dash (Digital Cash), it ceased operating on the dark in 2016. Payments via Dash are almost instantaneous, and through user engagement protocols, the community which uses it are all geared towards improving its development.
ZCash (ZEC)
Developed in late 2016, ZEC is geared around security and transparency. The two main protocols of Zcash involve either shielded or transparent pools.
Private transactions can be disclosed to aid transparency, allowing users to prove payments in order to comply with governmental regulation and tax services. In this way, Zcash has been at the forefront of creating a sustainable future for cryptocurrency.
"The developers of ZCash have been very public in meeting with law enforcement agencies" says Carina Rodriguez, contributor to draftbeyond.com, "This, finally, is a bid to show a united front against illegal cryptocurrency activity."
Monero (XMR)
Monero has had a somewhat controversial year. Some studies during the year showed that around 4.3% of the total supply of XMR had been mined illegally. For many, this is a worrying part of cryptocurrency. However, as the industry as a whole move towards a more legitimate, less shady mode of practice, it is interesting to note that during the time these studies were published, XMR's value seemed to have fluctuated very little. It is based on the CryptoNight 'Proof of work' algorithm, pushing miners to seek legitimate sources of data.
Unlike, for instance, ZCash, Monero is developed around utter financial privacy, allowing payments and balances to remain hidden. Though it remains a controversial choice of Bitcoin, it continues to be a versatile crypto asset used across the world.
Benjamin Schmitt is an experienced lifestyle writer and app developer. He writes on app development and a range of other topics for Gum Essays and Lucky Assignments.
Open your free digital wallet here to store your cryptocurrencies in a safe place.