America has its 45th President today and several bitcoin investors and analysts believe that with Donald Trump Bitcoin price could grow, as its presidency could provide a boost to bitcoin prices.
Analysts explained that even if Bitcoin markets would not see any significant change from Clinton's election, instead Trump could impact worldwide investors, so traders agree that Donald Trump will be a good thing for bitcoin business.
Jacob Eliosoff commented:
"I think a Trump presidency would be great for bitcoin, much like nuclear war would be great for bitcoin. It would be an epic disaster in a bunch of respects – economic, geopolitical, democratic – and in the fear and chaos bitcoin would be a defensive asset people could turn to."
If Hillary Clinton won, experts have suggested that she would be a boom for the blockchain markets, given her open embrace of the tech as part of her innovation platform. Previously, in fact, she suggested she would use the distributed ledger.
The Donald Trump Bitcoin Effect
Donald Trump hasn't put bitcoin on his agenda yet, but he defined himself as a "Washington outsider", so traders believe that he lead to uncertainty and move towards alternative assets.
This might create just a temporary increase in bitcoin prices, but it might have a little lasting effect.
In fact,  ARK Invest's Chris Burniske underlined that bitcoin can be useful in unpredictable times like this, and the election could add evidence to this claim.
"The way in which its price movement is uncorrelated from other capital market assets may be a desirable characteristic for many investors in the face of uncertainty. Depending on how people feel about the election, they may choose to hedge themselves from the more traditional markets by using bitcoin."
So, in a few words, if bitcoin benefits from the election result, don't give Trump too much credit for that, any other cataclysm would have done the same.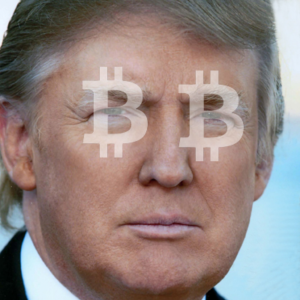 Open your free digital wallet here to store your cryptocurrencies in a safe place.