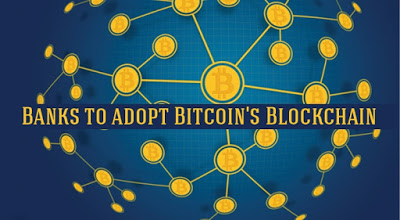 In a recently translated piece by the Deutsche bank, originally written by Thomas F. Dapp and Alexander Karollus, the German bank discussed how banks in general might be able to benefit from p2p networks like Bitcoin. The authors specifically mention a hypothetical future scenario where banks might assume new tasks that still play on banks' perceived trustworthiness – "e.g. as custodians of cryptographic keys." Other existing centralized services might have to adapt to serve other roles in the coming decentralized world. Don't be surprised if someday soon Bloomberg to self-proclaim themselves as an oracle? They went on to note that the politics of Bitcoin would eventually lead to a head with regulators, law enforcement, etc. However, in the face of this new technology and potential regulatory backlash, Deutsche bank still wants to push forward… Because the concept of a blockchain really is that compelling, and the banks are finally starting to get it. Dapp and Karollus wrote:"Traditional banks should not rely on the regulator now, though, but instead actively experiment with the new technologies in their labs and collaborate without prejudice in order to create their own digital ecosystem in the medium run."
This piece was originally published by Deutsche bank in late July. Since then, the German bank has delved head first into the investigation of blockchain use. Deutsche Bank is joining Morgan Stanley, Bank of America, HSBC, and Citi among other banks in a distributed ledger initiative lead by
R3
. Other banks include BNY Mellon, Commerzbank, Mitsubishi UFJ Financial Group, Royal Bank of Canada, SEB, National Australian Bank, and the Societe Generale and Toronto-Dominion Bank. The international representation in the project's participants is not to be ignored. Many of these banks have also hosted big name Bitcoin companies, at least for a few weeks. For some banks, this move is clearly away from Bitcoin and to the blockchain – whatever that means. R3 CEO David Rutter commented:
"The addition of this new group of banks demonstrates widespread support for innovative distributed ledger solutions across the global financial services community, and we're delighted to have them on board."
Why are the banks rushing toward Bitcoin now? Why are they pushing the use of the words "distributed ledger" and "permissioned database" over "blockchain?" Why didn't that sentence contain the word "Bitcoin?" All the banks delving into this new distributed technology know that they believe in blockchains more than bitcoins. After all, bitcoins have already suffered the taint of money laundering in the pen of the mainstream media and the eyes of the undiscerning reader, of which there are way too many.
HolyTransaction
believes in many blockchains, as evidenced by our support of other altcoins including our most recent addition –
Gridcoin
.
The community still isn't quite sure what R3 is going to be doing with all of these banks and how involved Bitcoin will be. The emphasis that released products would be open source but might move away from proof of work, which some consider environmentally unviable. R3 is leading the world's banks to the blockchain light. Better late than never!
Open your free digital wallet here to store your cryptocurrencies in a safe place.