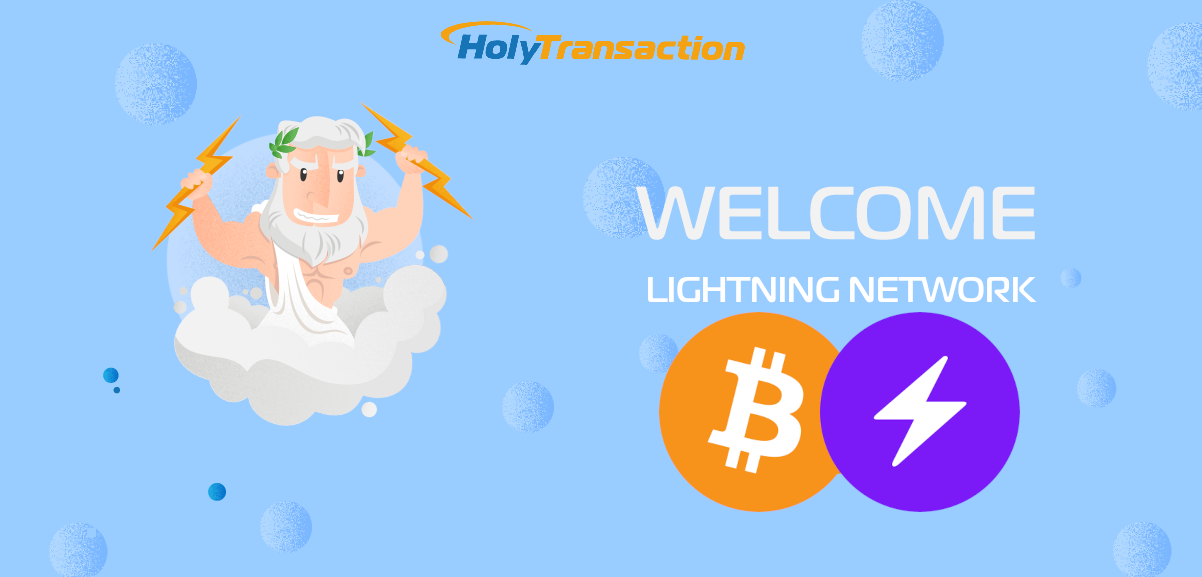 Today, we are pleased to announce that HolyTransaction is adding support for swapping to Bitcoin on Lightning Network and thus introducing the ability to deposit and withdraw using Lightning Network.
By adding this capability, HolyTransaction is set to revolutionise the speed, cost and security of depositing and withdrawing Bitcoin on to its platform.
Lightning Network is a software stack which sits on top of the Bitcoin blockchain and, as the name implies, ensures faster and cheaper transactions for its users.
Other than super fast speed and lower fees users will notice a new format of address called invoice when they send or receive Bitcoin via the Lightning Network. The team at HolyTransaction reported that the integration has been successful and hassle free.
Lightning Network brings three essential product benefits to the HolyTransaction exchange:
• Instant Payments. With the use of smart contracts security across the network is much higher and because the stack is built 'on top' of the Bitcoin network no transaction confirmations are required. This makes instant payments super fast, super secure and, of course, super cheap.
• Scalability. The massive upscale in transactions per second eclipses any traditional legacy payment rail on the market today. Furthermore, payment 'with click' becomes a true reality as the need for financial custodians are eliminated.
• Low Cost. Because Lightning Network does not interact directly with legacy Bitcoin infrastructure itself Lightning Network enables transaction with incredibly low fees. This in turn will stimulate economic growth in new and emerging markets.
In real terms this means Bitcoin deposits and withdrawals on HolyTransaction will be much faster and much cheaper when using Lightning Network.
At the time of press average costs for sending a Bitcoin transaction currently stand at around $2 with confirmation times of around 10 minutes. This clearly has limitations. However, a Lightning Network enabled transaction will cost less than $0.01 and take somewhere in the region of 1-3 seconds.
Adopting Lightning Network will make HolyTransaction more attractive for users who wish to send transactions with added security at much lower cost and super fast speed. HolyTransaction is happy to report that Lightning Network has been integrated for both desktop and mobile application versions.
Lightning Network was envisioned in 2015 and has seen significant growth throughout 2021 which has lead to it being regarded as the most popular layer 2 scaling solution on the market for Bitcoin today. With continued adoption Lightning Network may just help to finally realise the original Bitcoin goal of providing a scalable, fast and cheap financial payments network to the world.
The team at HolyTransaction believe the adoption of the Lightning Network is the logical step in the development of the platform. Lightning Network adoption will enable HolyTransaction to continue to provide a first class crypto trading experience and offer competitive fees with super fast finality times.
Need to open a channel to us?
021744d86987a919584611[email protected]:9735
Lightning Network Node links:
1ML
Amboss
Open your free digital wallet here to store your cryptocurrencies in a safe place.