During the past months cryptocurrency Ethereum was growing fast, increasing its value and consequently its own popularity.
Today the Ethereum price is about $9 (0.022 BTC) and it undergone very few changes with an almost always upward price.
Just in the last day Ethereum raised its market capitalization by 26%, reaching almost $730 million, representing more than 10% of Bitcoin's market cap.
This behaviour is truly important as Ethereum is proving to be much louder than the other altcoins, reaching the market capitalization of all the other altcoinsll together, excluding bitcoin.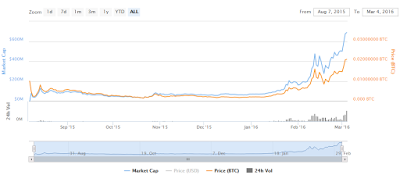 Microsoft Corporation certified Ethereum
Some days ago a startup who provides Ethereum softwares, BlockApps became the first certified company on Microsoft Azure's Blockchain-as-a-Service (BaaS).
Director of Blockchain strategy at Microsoft Corporation, Marley Gray, commented:
"The simple, rapid and flexible one-click deploy of Ethereum blockchain architecture launched on the Microsoft Azure Marketplace enables enterprises and developers to quickly deploy a certified blockchain environment on Azure."
But, what is Ethereum?
Created in 2013 by
Vitalik Buterin
,
Ethereum
is a cryptocurrency and a blockchain platform who provides decentralized services.
  At the moment Ethereum is in the so-called Homestead phase, the second of the six phases of its rollout that they company planned. The other phases will be
"Metropolis (Mist release), Serenity (proof of stake Casper plus abstraction, aka Ethereum 1.5), Ethereum 2.0 and Ethereum 3.0 that will focus on scalability"
, commented Buterin during a recent interview conducted by Bitcoin.com.
Thanks to Homestead, said Buterin, "the risk of using the Ethereum platform is now substantially reduced".
Open your free digital wallet here to store your cryptocurrencies in a safe place.