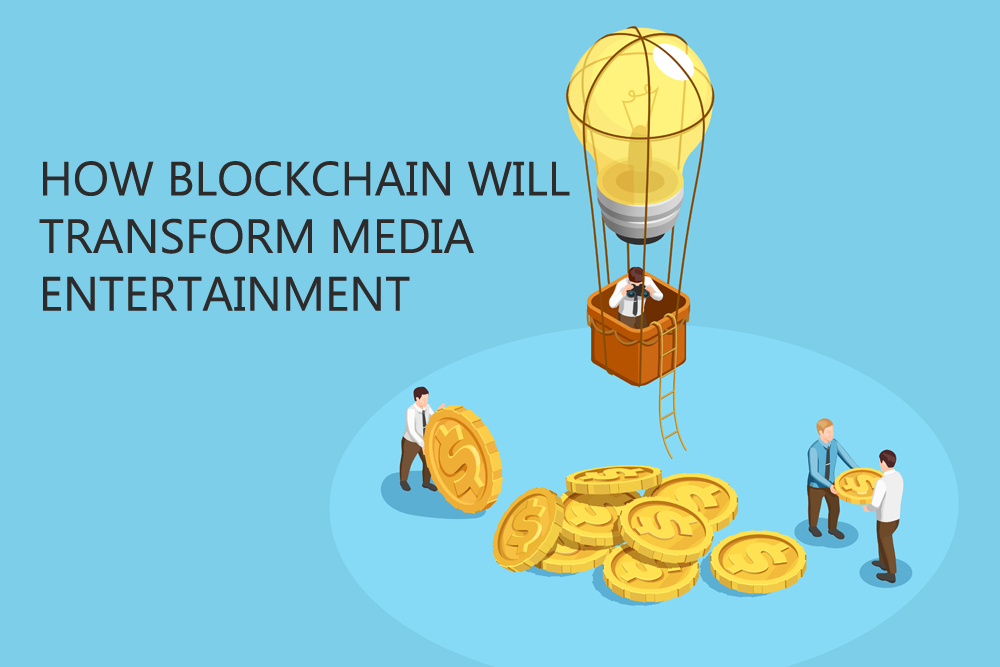 When people talk about the entertainment industry and media, blockchain isn't exactly the first thing that comes to their mind. 
Wall Street and eCommerce are way ahead of the entertainment industry in terms of blockchain adoption, there's growing evidence that things could change pretty soon. As more and more use cases for the technology emerge, major players in the industry are increasingly looking at blockchain as something that has the potential to resolve some pressing issues.
Warner Music Group, for example, has recently joined an $11 million investment round in Dapper Labs, a blockchain company seeking to create Flow, a rival to Ethereum. Already, the company is exploring a number of use cases for the cryptocurrency, including sales of digital merchandise with financial tokens. 
The slow but sure progress of blockchain in the media and entertainment might be a sign that a breakthrough might be approaching. Currently, the technology is known to provide the following solutions.
Reduce the Dependence of Artists on Middlemen and Labels 
The problem of middlemen is persistent and very well-known in the music industry. Even though it has come so far in terms of technology, it's still in the same place when it comes to compensation distribution. The biggest losers in this situation are often the artists, who end up with a lack of opportunities to get sponsorship contracts with big-time labels. 
The only viable option for an artist to minimize the dependence on managers and distribution services is streaming services. However, the compensation they get for the music is often inadequate, even for the well-known artists. Here are some examples (source: CNBC):
Taylor Swift's compensation for her famous song "Shake it Off" was between €240,000 and €335,000 even though it attracted more than 46 million streams
1 million plays on a streaming service like Shopify translates only about €6,000 in earnings for the artist
1 million plays on Pandora gets the artist less than €1,700. 
All of this translates into between €0.004 and €0.007 of pay per play. 
Blockchain can reduce artists' dependence on labels and other middlemen because it's not run by a central body but rather everyone on the network. This means that the financial transactions – compensation for songs, etc. – could be conducted without the involvement of the middlemen. 
Secure Peer-to-Peer Sales 
Contract distribution and payment for property in the entertainment industry can be a complicated thing. The biggest problem is the sheer amount of work involved in payment processing, making exclusive distribution agreements, providing licensing, and other things. On top of that, there's high fees and a lack of control over the process for artists.
Many artists delegate these business administration responsibilities surrounding contacts, licensing, and payment to their agents. As a result, the artists are once again left with high losses because they simply cannot sell their work directly peer to peer. 
A blockchain-powered marketplace for entertainment content is a solution here. 
"Since blockchain is a distributed digital ledger system, it can enable almost complete automation of all business administration work surrounding payments, contracts, and licensing," says Jason Rowe, a technology reporter. "The biggest benefit here, however, is the ability to enable artists to license their content directly to customers."
WeMark is one example. It's a distributed marketplace for stock photography that seeks to reduce the dominance of agencies like Getty Images and Shutterstock. According to WeMark's white paper, these agencies now charge photographers up to 85 percent of the photos' sale price, so the latter are left with a fraction of potential earnings.
Here's how the WeMark platform works to provide artists with distribution agreements. 
The solutions offered by blockchain-powered marketplaces like WeMark include:
Reform of the super-centralized system for distributing digital content
Artists license their content directly to users, keep all the rights and manage pricing
More secure content distribution terms and fees with smart contracts that are programs that are unchangeable unless all the conditions are met
More effective referral programs to assist artists to share their content and reach more customers.
Once blockchain marketplaces get more popularity among artists, chances are good they will prefer to use them instead of agencies like Getty Images. Each of the marketplaces will accept the most common cryptocurrencies as a payment method; moreover, as the costs of crypto mining gradually go down as blockchain gets more acceptance, chances are that artists will be willing to use cryptocurrencies for peer-to-peer sales. 
Combat Piracy
The number of visits to media piracy sites in 2018 rose to 17.3 billion in the U.S. alone. With the volume of video-based traffic rapidly increasing around the world, online media piracy has skyrocketed; in fact, the television and film industry estimates about $52 billion in lost revenues by 2022. 
Blockchain might be one of the solutions that will finally start to battle online privacy effectively. Its main promise, more comprehensive protection of digital assets, is perfectly aligned with the goal of combating pirates. For example, the technology can allow artists to transfer media files securely while having the complete visibility of the operation. 
Another benefit of bitcoin is allowing it to catch pirates by identifying illegally obtained files. For example, if you're a moviemaker looking to distribute a file to reviewers, you can use a blockchain-powered video distribution platform that embeds a special code, or a wallet, in every copy that gets distributed. The code remains in the file despite conversions or other processing operations.
If the file is leaked and found, then identifying the presence of the code, therefore, an illegally obtained file, becomes possible. The adoption of blockchain is still a problem, but it's clear that the technology is on the way to become the future of the anti-piracy tactics (Warner is already investing in a blockchain company, remember?)
Blockchain: The Missing Link in the Entertainment Industry?
When people hear blockchain, they tend to think about Bitcoin. However, the technology stands to benefit many industries, including entertainment, and is already showing some good progress. The industry is highly centralized and there's a great potential to increase earnings for people doing the creative work. 
As the applications of blockchain become more common and the benefits visible, it's possible that artists will be more willing to use the technology. However, the massive adoption is still yet to come, so stay tuned to blockchain news.
About the author: Jessica Fender  is a content editor for TopWritersReview.com and a tech blogger. She is passionate about technology trends and finding new ways to help students improve their skills and become more successful. 
You may also like:
Open your free digital wallet here to store your cryptocurrencies in a safe place.