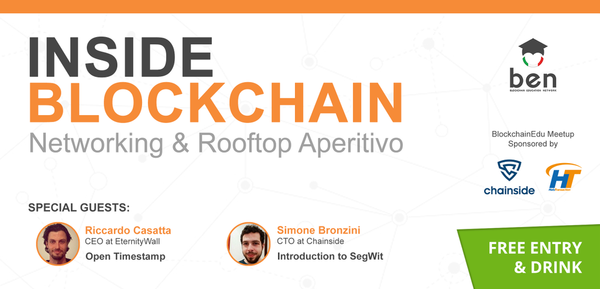 On July 10th, a new Bitcoin meetup will be organized in Rome thanks to the Blockchain Education Network Italia. 
This bitcoin meetup aims at spreading the word about the blockchain and being a meeting place for all the enthusiasts of the distributed ledger and digital currencies.
The evening will host different meetings with two major experts in the industry:
After their speeches, there will be a pitch with a few startups that work in the industry and free networking with pizza and beer for free.
The event is free, but in order to have access you need to register yourself on Eventbrite here:
https://www.eventbrite.it/e/biglietti-blockchainedu-meetup-roma-35736918084
Click here to read more about this bitcoin meetup: https://www.meetup.com/Bitcoin-Generation-Roma/events/241266421/
This event is sponsored by HolyTransaction.
Open your free digital wallet here to store your cryptocurrencies in a safe place.