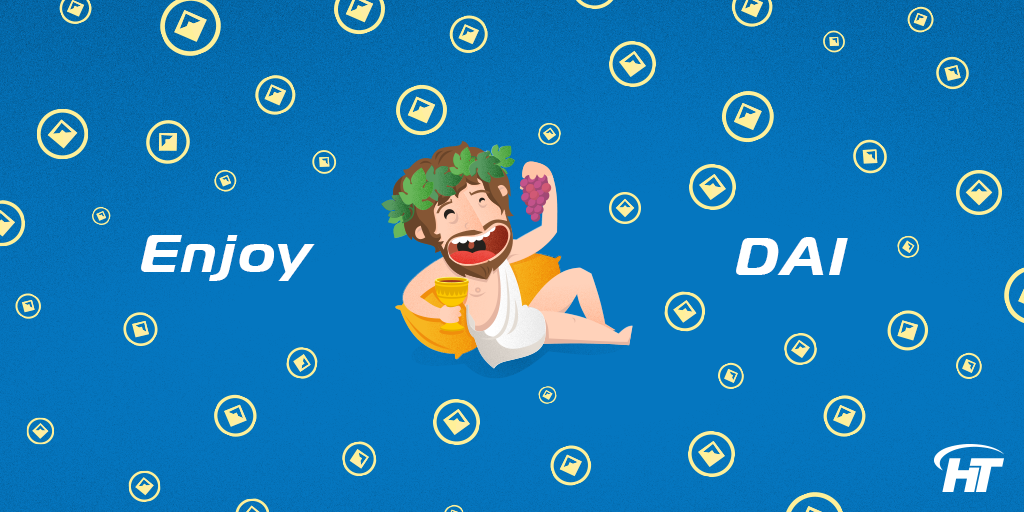 If you thought about holding or exchanging DAI Stable Coin, now you can do so directly with your HolyTransaction Universal Wallet.
It's now possible to add DAI wallet to your dashboard and use it to access and exchange 24 different crypto, instantly. This is just one of the many recent adoptions, which brought the number of cryptocurrencies accepted on our platform to 24.
Now you are free to store DAI on HolyTransaction, transfer them to any other wallet, and make crypto-to-crypto transfers from and to DAI. All HolyTransaction customers can create a new address for their own DAI Wallet.
DAI Wallet features
Just like Bitcoin and all the other 23 digital currencies supported, you can now:
• Send DAI to any address, even to addresses of other crypto, with instant conversion on the fly;
• Receive transactions;
• Exchange DAI with any supported coins;
• Make instant transactions between HT users;
• Get real time exchange rates on the website;
• Set OTP for additional protection.
If you are not able to see your newest DAI Wallet, you just need to click on the "plus" button on the top right of the balance page, once you successfully login into your own wallet.
About DAI:
Dai is a cryptocurrency that is price stabilized against the value of the U.S. Dollar. Dai is created by the Dai Stablecoin System, a decentralized platform that runs on the Ethereum blockchain.
With Dai, anyone, anywhere has the freedom to choose a money they can place their confidence in. A money that maintains its purchasing power.
MKR holders govern Dai
Maker is a decentralized autonomous organization on the Ethereum blockchain seeking to minimize the price volatility of its own stable token — the Dai — against the U.S. Dollar.
Maker smart contract platform controls and sells Dai. Indeed, decentralized and trustless, the Maker platform stabilizes the value of Dai to one U.S. dollar using external market mechanisms and economic incentives. 
Eliminating the necessity to trust a centralized organization and the hassle of third-party audits, Maker offers a transparent stablecoin system that is fully inspectable on the Ethereum blockchain.  
Maker's Dual Coin System
The Maker Platform has two coins: Makercoin (MKR) and Dai (DAI).
Makercoin – A token with a volatile price that is used to govern the Maker Platform
Dai – A price stable coin that is suitable for payments, savings, or collateral.
(Sorced from coincentral https://coincentral.com/maker-dai-beginner-guide/)
Open your free digital wallet here to store your cryptocurrencies in a safe place.